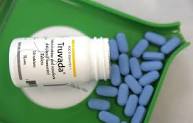 Truvada is a Human Immunodeficiency Virus (HIV) drug manufactured and marketed by Gilead Pharmaceuticals aka Gilead Sciences. The active ingredient in Truvada is tenofovir disoproxil fumarate (TDF) and is part of the antiretroviral medication class called nucleoside reverse transcriptase inhibitors (NRTIs). Truvada, along with other meds, are also classified as HIV Pre-exposure prophylaxis (PrEP) drugs. Other HIV PrEP medications are Odefsey, Biktarvy, Descovy, Genvoya & Vemlidy. Initially these drugs were hailed as miracle medications but it came to light that drugs containing TDF and or ADF can result in low bone mineral density (BMD). In addition, they can lead to an increase in bone cell turnover rates, which leads to dangerously compromised bone structure. In essence, Truvada and other HIV PrEp meds can increase bone pain and make people significantly more vulnerable to fractures. HIV meds made by Gilead and others are very taxing on the liver and can result in severe liver damage, Hepatitis and kidney damage. In recent years Gilead has had thousands of lawsuits filed against them as it is alleged that they knew of a less toxic drug but did not make it available to the public as it was not as profitable as Truvada and other HIV PrEP medications. If you
Please contact our team of medication injury attorneys handling Truvada lawsuits nationwide. All case examinations are free and there are no fees of any sort if our gay Truvada injury attorneys cannot obtain compensation for you. Serving the entire United States including, but not limited to New York City, Chicago, Illinois, Los Angeles, California, Washington D.C., San Francisco, CA, Denver, CO, Boston, Massachusetts, Wilmington, Delaware, Pittsburgh, Pennsylvania, Philadelphia, Pennsylvania, Puerto Rico and Miami, Florida.
What Are HIV PrEP Meds?
In those who are not currently HIV positive HIV Pre-exposure prophylaxis (or PrEP) meds prevent people from getting HIV despite being in high risk categories and or engaging in high risk behaviors. Truvada comes in 300mg pills and are to be taken on a daily basis. The pill (brand name Truvada) contains two medicines (tenofovir and emtricitabine) that are used in combination with other medicines to treat HIV. When someone is exposed to HIV through sex or injection drug use, these medicines can work to keep the virus from establishing a permanent infection.
When taken daily, PrEP is highly effective for preventing HIV. Studies have shown that PrEP reduces the risk of getting HIV from sex by about 99% when taken daily. Among people who inject drugs, PrEP reduces the risk of getting HIV by at least 74% when taken daily. PrEP is much less effective if it is not taken consistently.
How Does Truvada Work?
Truvada works by preventing HIV from replicating within the body, which reduces transmission rates and helps the immune system. The drug allegedly has to be digested in high doses in order to be effective. Although this high dosing ensures that drug serum levels reach their desired levels in the blood, it can allegedly cause serious side effects. The high dose allegedly subjects kidneys and bones to an overexposure of tenofovir, Truvada's main ingredient, which is potent and toxic. If you have suffered bone density loss, kidney damage or liver damage as a result of taking Truvada you may qualify for benefits and financial compensation. Please click here to begin your free, in depth case analysis with our team of award winning pharmaceutical litigation attorneys. They handle Truvada lawsuits across the nation.
Our LGBTQ Truvada injury attorneys handle all accident, injury and malpractice cases via contingency fee. This means they charge no fees if they do not recover for you and your family. Handling Truvada lawsuits in all states including CA, DC, PA, NY, NJ, DC, DE, MA, IL, MI, NV, WA, AZ, LA and PR among others.